Affiliate Disclaimer
We hope you love the products I recommend! Just so you know, I may collect a share of sales or other compensation from the links on this page. Thank you if you use my links, I really appreciate it! I am also a participant in the Amazon Associates program and will also make a commission from qualifying purchases.
You'll be surprised to hear that running on sand is actually more difficult than running on concrete and grass. This is because your legs need to be more engaged, and provide enough force to push off the sand.
However, as I'm sure many of you experienced runners out there know, the more difficult the task, the greater the reward, which can also be said for running on sand. It will engage your core, glutes, legs, and even ankles to some extent, allowing you to build lower body strength and get some cardio in at the same time.
In this article, I'm going to review some of the best shoes for running on the beach in 2021. We will also discuss how to choose the correct shoes for running on the beach – get it wrong, and you could end up injuring yourself.
5 Best Shoes For Running On The Beach
1. Xero Speed Force Shoes
The Xero Speed Force Shoes for men are available in three different colors. You can choose between red, black, or blue depending on your preference. 
They are super lightweight, allowing you to run on the sand in comfort. In fact, they are so lightweight that you won't even notice them on your feet. The breathable mesh upper further adds to the comfort of these amazing running shoes.
Furthermore, the toe box is extremely wide, providing you with a great fit regardless of how wide your toes are. 
The non-elevated zero-drop heel keeps your posture nice and straight while running. This trains you to develop great posture over time if this is something you struggle with.
In addition, the moisture-wicking lining does its best to prevent water from entering the shoe while running.
If that wasn't enough, this shoe is designed to give you range of motion, allowing your feet to move the way they're designed to when running.
Overall, it's a shoe with a minimalist design that lets your body work the way it desires.
If you decide to go ahead and purchase it, make sure you order one-half size up from your usual shoe size to get the best fit.
2. Oranginer Men's Barefoot Shoes
If you're looking for a shoe that comes in a range of colors, then these Oranginer Men's Barefoot Shoes have hit the nail on the head. You'll be able to choose from green, orange, black, and many more.
You won't need to waste precious time lacing them up as they have a no-tie lace, meaning you can slip them on and you're good to go.
The cushioned sole means you can run on sand without sacrificing comfort and stability. 
Furthermore, they are extremely lightweight and provide you with a barefoot experience while wearing shoes. Crazy, right?
Considering they mimic barefoot running, your feet muscles will begin to strengthen, which will reduce your injury rate and allow you to spend more time on the beach running.
They also have a wide toe box, so you can experience a better grip and fit your toes. The breathable mesh design and insoles help prevent your feet from coming into contact with damp conditions, which makes sense considering you're going to be running along the beach.
In terms of downsides, if they take in too much water, you'll need to hang the insoles out, allowing them to dry before they can be used again.
3. Voovix Barefoot Shoes
Voovix is a brand that is star struck on designing high-quality shoes you can brag to your friends about. They worked hard designing these shoes and getting them to the standard they're at now.
Similar to the previous options on this list, they will strengthen your feet muscles, reducing joint stress and preventing injuries.
The flex grooves on the outsole provides you with excellent grip when running on the beach. 
Furthermore, if you suffer from foot odor, the breathable design will keep it to a minimum, while allowing you to run faster and more effectively.
Designed with a thick insole, you'll have no issues with comfort. They support the feet's arches, provide cushioning, and minimize pressure.
In addition to all the great benefits listed above, they have a wide toe box, allowing your feet to rest in their natural position.
When running on the beach, you can come into contact with some large rocks coming out of the sand. The last thing you want to do is accidentally kick one and end up with broken toes.
Luckily, these shoes are designed with anti-collision toe caps to help prevent this from happening.
4. Aleader hiitave Unisex Running Shoes
The Aleader Hiitave Unisex Running Shoes are designed with a no-lace system. This means you can slip them on and tighten them with the bungee style cord, saving you time and effort.
Similar to Xero Speed Force Shoes, you'll feel as though you're running barefoot thanks to the super lightweight and minimalist design. To put it into perspective, a size nine shoe weighs only 0.4 pounds.
They're made with a zero heel-to-toe drop construction, which ensures your heel and forefoot are at the same distance from the ground, providing you with excellent form when running, especially on the beach.
The wide foot toe box means your toes spread out to their natural position, making them perfect for uphill running, and allowing you to experience more comfort and stability.
One issue with these shoes is they can rub against the back of your heel. However, once you've broken into them, they should be fine.
5. Body Glove Men's 3T Barefoot Max Water Shoe
If you're looking for a pair of shoes that offer maximum comfort and stability, then you'll be glad to hear that the Body Glove Barefoot Shoes offer just that. Their 3-toe pocket system ensures maximum comfort when running, while also making putting them on a lot easier.
It's as though these shoes are designed for the sole purpose of running on the beach. They offer an integrated drainage system, allowing water to flow from the upper and out through the outsole, so they can dry quickly after being used.
The soles are reduced in height, so you have a better experience of running barefoot. They also help align your posture, helping prevent certain injuries.
Furthermore, the grip on these guys is badass. It provides increased traction and stability when running on wet surfaces, making them perfect for the beach.
My only complaint is they can be a bit small, so your best bet is to purchase a size bigger than what you typically wear.
What To Look For When Buying Beach Running Shoes
There are some things to look out for when looking for the best shoes for running on the beach. Let's take a look at them below.
Comfort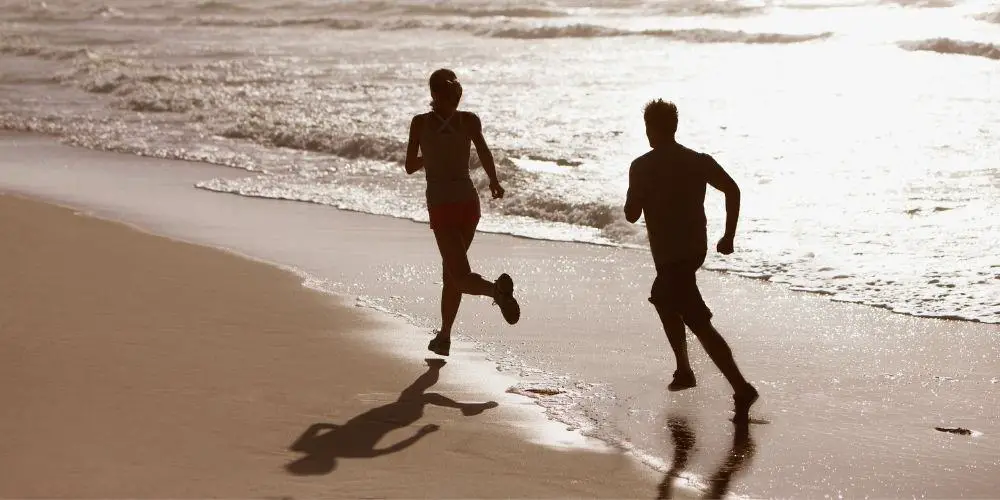 When selecting a pair of running shoes, comfort should be your number one priority. The more comfortable the shoes are, the more you'll be able to enjoy your run.
However, keep in mind that some shoes may take a while to break into. That's why we recommend wearing them around the house before you take them out and hit the beach.
All the shoes on this list are made to be comfortable, allowing you to enjoy a more pleasant running experience.
No-Lace System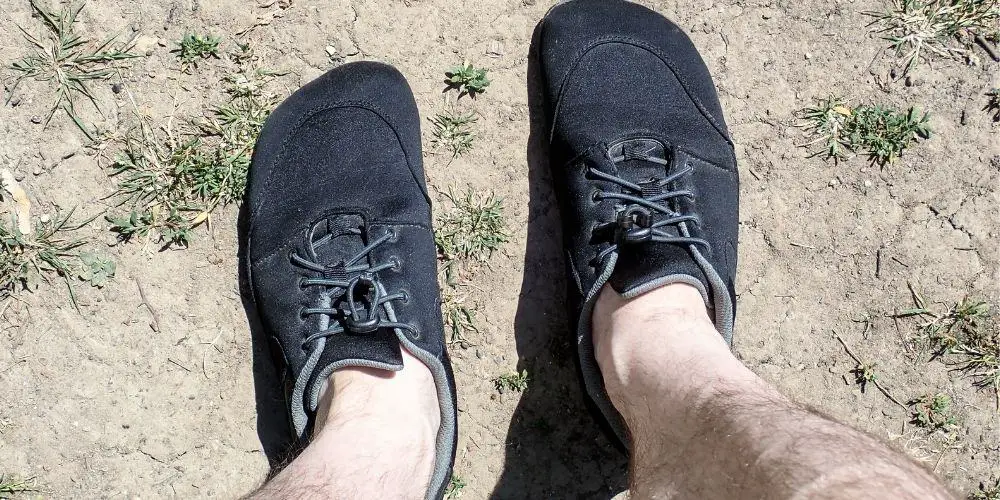 This isn't as important as some of the other things to look for, however, a no-lace system is a great addition to any pair of running shoes. It means you'll be able to save time and won't have to deal with the pain of tying your laces if they come undone while running.
Breathability
If you're one of those people who experience bad feet odor, then ensuring your running shoes are breathable is a necessity. Breathable shoes also provide more stability compared to other shoes.
FAQ
Can You Run Barefoot On The Beach?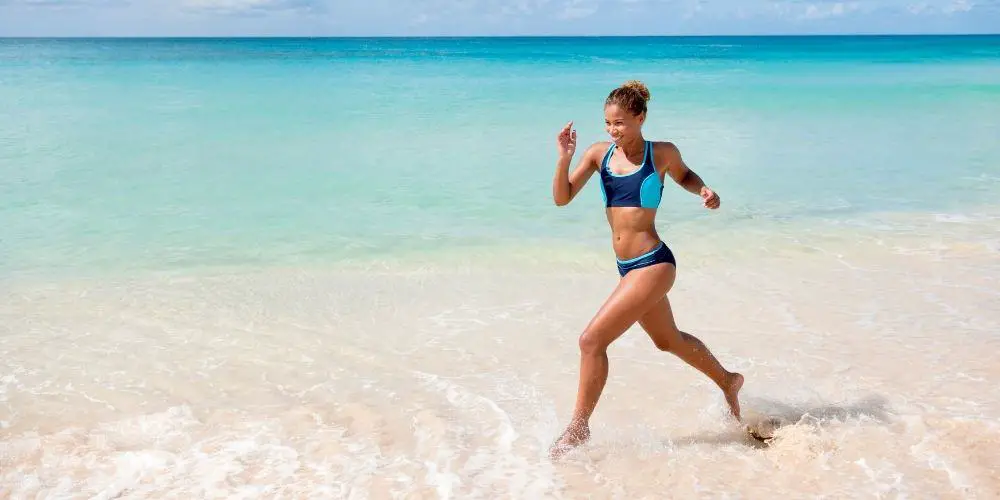 Yes, you can run barefoot on the beach. In fact a lot of people say that running barefoot on the beach is good for you. However, it does come with some downsides.
You could end up stepping on a rock or piece of glass under the sand. A pair of barefoot running shoes will help prevent this from happening, by giving your feet a layer of protection.
Also, if your muscles aren't used to running barefoot, you could end up injuring yourself. 
The solution is to get yourself a pair of shoes that mimic barefoot running, like the ones reviewed in this article.
Conclusion And Verdict
There's no better feeling than running along the beach, watching a beautiful sunset, while listening to the waves crash. 
Unless…
You end up injuring yourself because you haven't got the correct running shoes. That's why we put together this article that shows you the best shoes for running on the beach.
If you're still struggling to choose, then the Xero Speed Force Shoes (Affiliate Link) is a great choice.