Affiliate Disclaimer
We hope you love the products I recommend! Just so you know, I may collect a share of sales or other compensation from the links on this page. Thank you if you use my links, I really appreciate it! I am also a participant in the Amazon Associates program and will also make a commission from qualifying purchases.
I'm saying this while fully knowing that I'll sound like a slimy salesman: Congratulations on continuing/taking up running! Your age should never be that big of a factor when you're deciding which activities you should include in your life.
A regular run should especially be a part of your routine because of all of the amazing benefits. Multiple studies state the importance of physical activity and cardiovascular exercise for longevity and vitality.
Running goes a step further. It strengthens the core and lower body muscles – all very important for the spine and joint health, as well as delaying certain age-related health issues.
So, pick up a pair of shoes and… Oh, wait. I'm skipping ahead. I guess it's my job to tell you which are the best running shoes for older runners.
Choosing The Correct Shoe Is Important – Heres How To Do It
Just because you have to pay a little bit more attention to your footwear, it doesn't mean it's mission impossible. As long as you're aware of these five requirements, you're bound to have your Cinderella moment.
Appropriate Support
When we are talking about good support, we are usually thinking of ankle, knee, and hip health, so you get the picture. Luckily, most manufacturers tend to compete in who will release the "healthiest" shoe next.
Just remember to steer clear of the "barefoot running" trend. Those Vibrams may look cool, but they may not be for you. If you still want them, go for it and buy them, but only so you can make your favorite Millenial super jealous.
Good Cushioning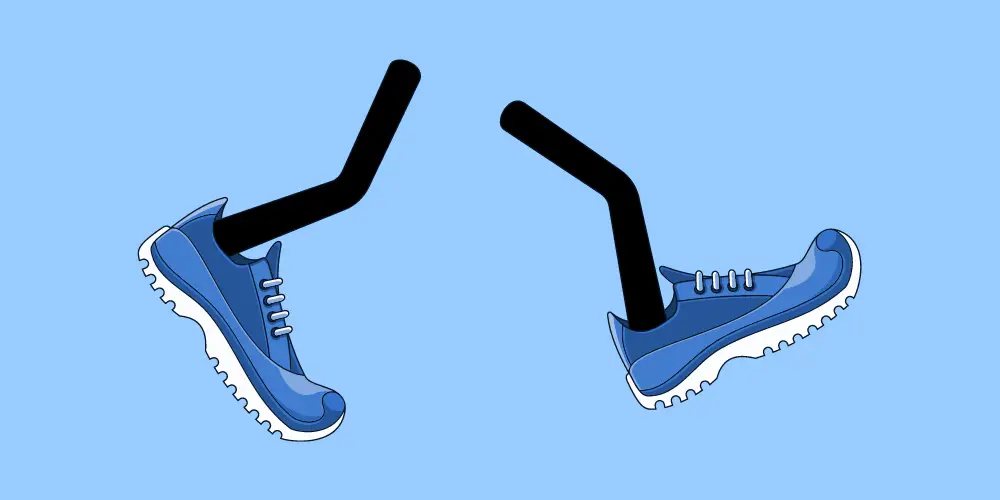 Even without significant health issues, you want as much of shock resistance that you can get. Think of it as cake – even if you don't have weight issues, eating a huge slice every day will add up to you having to buy a larger pair of jeans.
The same way those vibrations will add over time to serious joint pain. Remember also that not all sole and midsoles are made equal. Always take notice of the terrain you are running on and choose your shoes based on how they will behave on bare ground or asphalt.
Easy to Break In
If you're old enough to qualify for free stuff, you have to make peace with the fact that your skin is not what it used to be. Shoes with a lot of leather panels and rigid heels will be a pain to break in, literally.
You are far more likely to form blisters, and those blisters are far more likely to stick around for a while. This doesn't mean that you can't even look at these types of shoes, but you will have to be a bit vigilant.
If you have issues while you're breaking into your running shoes by wearing them around the house, the chances are that they are the wrong kind for you.
Easy to Put On
Because it would be a bit cooler to injure your back bungee jumping, not putting the shoes on. But all joking aside, if you have any issues with mobility, especially the bending down part, your shoes need to be easy to put on and slip off.
Pay attention to the lacing as well, since you should not have to experience
any string just trying to secure the shoe to your foot.
Lightweight Design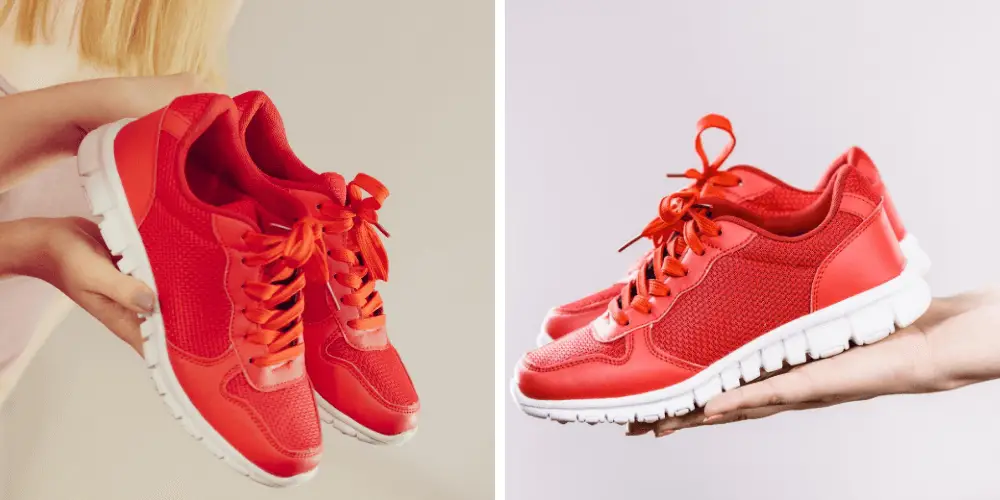 I know you always dreamt of being the sixth member of the Spice Girls, but take a pass on those platform trainers Baby Spice used to wear. Heavy shoes will put extra strain on your joints, so avoid them at all cost!
It will seem like it's impossible to balance the amount of support you need with this requirement, but don't worry and just read on. I've got you covered…
Our Top 5 Best Running Shoes For Older Runners
You'll notice that the list below doesn't have any models from the "big brands". That doesn't mean that the shoes from those brands are garbage, it's just the ones listed below are just that much better at addressing some of your needs.
1. Skechers Men's Athletic Training Sneaker
The last time I had Sketchers shoes, I was prancing up and down my school's hallways. However, these made me take another look. Not only is the design a lot less gimmicky than a good chunk of their line, but the smart shock absorption system is heaven-sent to anyone who is looking to protect their joints.
The FlexSole design is something that is featured in a lot of Sketchers shoes and it makes them perform rather well on all kinds of terrain. In the case of this model, it's supported by memory foam for ultimate cushioning and pressure relief.
And if you've ever had a memory foam mattress, you can only imagine how it would feel to have one in your shoes. This brand is also known for being non-slip, and that's a feature that appears in this model as well.
The upper is made out of signature Sketcher mesh that makes it very breathable, but also super easy to break-in.
All in all, these shoes are a safe purchase. Even if they don't quite hit the spot for running or other high-impact activities, they are excellent walking shoes for those who have issues with their feet or joints.
Our Rating 5/5
2. Saucony Women's Cohesion 10 Running Shoe
Though other models on this list come in women's sizes as well, this model goes an extra step to adjust to the needs of your average female runner. Saucony wishes for their customers to "focus on the activity instead of the equipment" and it shows in the design of this shoe with full clarity.
The aim was to create a shoe that can handle long-distance running. The first way they achieve that is by using IBR+ rubber in high-friction areas for maximum durability.
Next comes in the form of generous cushioning and flexibility for the comfort of the runner. For those who are "of age", one of the more attractive features will be the Heel Grid System which is a bit different than some other heel counters. It offers a lot of support without being too rigid and unyielding.
The upper is made out of very breathable mesh with a "cage" that is curved so it encases the foot without squeezing it too much. The toe box is also a bit on the wide side, so it will be able to fit a wider foot or the one with bunions.
And if you flip the shoe, you'll find texture similar to those on tires – if your car can drive on certain terrain, this shoe can take you down the same roads.
Even if the shoe looks a bit bulky because of the tall sole, each one weighs only 10 ounces, making it surprisingly light and suitable for older runners.
Our Rating 4.9/5
3. ASICS Men's Gel-Venture 6 Running Shoe
This shoe is primarily designed to handle rugged terrain. However, all of those features that make it deliver on its promise also make it great for use by older runners.
The outsole is designed to provide traction on all ground, and the high-abrasion rubber is supposed to survive a lot of abuse. For an extra dose of smart design, you'll find a set of lugs on the bottom of the sole that are supposed to give uphill and downhill traction.
Then, there's the cushioning made out or proprietary Rearfoot Gel which can absorb the shock from an asphalt sprint without missing a beat.
But the cherry on top is that it can fit a brace. If you have one, you might have had to go for a larger size or a bigger model before. That probably made it very awkward if you had that brace only on one leg.
Well, not anymore. Also, if you need a custom sole because of flat feet or any other reason, you can chuck it in as well.
And just to demonstrate it further, a couple of positive reviews online come from people who have prosthetics and who are very happy with how well this shoe accommodates their needs.
If this shoe has one major flaw, it's that it is more on a narrow side and it won't be suitable for people with very wide feet or those with bunions and other similar issues.
Our Rating 4.7/5
4. Brooks Men's Ghost 11 Running Shoe
A lot of older runners consider this shoe to be their Holy Grail. It comes packed with some amazing features without being too heavy or too bulky.
Starting from the top, the mesh upper stretches in strategic places giving more flexibility to the whole shoe. There are no particularly rigid parts that are too difficult to break in.
The heel support is more on the medium side, but it's nothing that can't be supplemented very easily if it's really needed. The Segmented Crash Pad does a good job of compensating for lost elasticity in joints and connective tissue,
allowing for a smoother ride.
The bottom of the sole is grooved to provide traction on any type of soil and
terrain. Furthermore, the BioMoGo DNA and DNA LOFT cushioning is some of the more superior of the ones that are currently available on the market.
It adapts to your needs based on your weight and gait, and it stays very
soft without slowing you down.
BioMoGo DNA is the one that provides adaptive quality, while DNA Loft foam softens landings, absorbs shocks, and smoothes the transition.
All that, and in 12 different color combinations. For an extra perk, feel free to order these shoes online since they run true to size. Also, if you've owned Brooks shoes previously, you can pick your old size since the sizing is consistent across models. This shoe is also available in women's sizes.
Our Rating 4.7/5
5. Brooks Men's Adrenaline Gts 18
This may be the ultimate running shoe if your trail tends to keep you in some form of civilization. They will not die on you if you take them outside of city limits, but you have better options for trail running above.
Let's talk about the upper. The mesh is the same smart stuff that stretches strategically for full mobility, just like the Ghost.
However, this time it also has an asymmetric cage that hugs the sides of the foot for extra support and a better fit, This time, the heel provides a lot more support as well.
Once you turn the shoe over, you'll see a sole that is slightly more flat in comparison with all previous models, yet it still provides great traction It's also reinforced in areas that are always under a lot of stress for
maximum durability.
The OmegaFlex feature allows for fluid movement. The BioMoGo DNA reappears again to provide a dynamic ride no matter your gender, size, or gait. It's
complemented by the Progressive Diagonal Rollbar, a tri-density midsole with an internal post.
It features multiple levels of material hardness and delivers a smooth transition. If you overpronate, aka tend to run with most of the weight on the inside edge of your feet, you should check this stuff out since it will go a long
way to correct it.
At the end of the day, it's a solid city shoe that delivers on the promise of performance, comfort, stability, and durability. Just watch out for the toe box since it can be a bit tight until it's broken in.
Our Rating 4.7/5
Frequently Asked Questions
What should I do if I need more support?
For an instant fix, you can get your hands on a pair of ankle stabilizers (Affiliate Link). Even a budget-friendly model like Liomor Ankle Support Brace (Affiliate Link) can go a long way in preventing unnecessary pain and injuries.
What to do if I had hip surgery or another similar procedure?
I don't see a medical diploma on my wall, so I'll have to refer you to your doctor. They will know best what your body can handle.
However, what I can share from my side is that the internet is a thing. If you get the green light and you've recovered enough to start running again, you can reach out to other members of the community for help with the planning of routes or see if someone with similar health concerns has a shoe recommendation.
Check out local message boards, Facebook groups, and subreddits like r/mastersrunning, and you'll bound to find people who are in a similar situation.
In the worst-case scenario, you'll form relationships with like-minded people who understand what you're going through.
How do I start running as an older runner?
If you have never run before, it doesn't matter if you're 16 or 60, you'll have to take your time. The process is more or less the same, but you have to pay more attention to your bones and overall health.
But please, please, please, don't give up before you've started. Or, better yet, rope in someone with the reputation of giving up on things to start running with you, and once they eventually give up, you can feel superior for still hanging in there.
Conclusion
As you see, there is absolutely no reason to not be active as you age, you just need to pay a little bit of attention and invest in good gear.
Any of our top picks will meet the needs of most runners in a certain age
bracket. And, if the trend continues, manufacturers will soon bring even more interesting models and technology.
So, continue running, and don't allow something silly like a calendar to stop you from enjoying your favorite activity.
Read More: Best Running Shoes For Compartment Syndrome