Affiliate Disclaimer
We hope you love the products I recommend! Just so you know, I may collect a share of sales or other compensation from the links on this page. Thank you if you use my links, I really appreciate it! I am also a participant in the Amazon Associates program and will also make a commission from qualifying purchases.
I love music. I am obsessed, actually, My collection probably houses the works of over 2000 artists, and I can discuss Netrebko's portrayal of Violetta as much as I can dissect lyrics of Black Sabbath.
So, obviously, I listen to e-books when I run. All joking aside, running is a great time to catch up on your "reading" or to discover new music since you're
forced to pay attention to it for a while. Also, it sets a rhythm that can help you keep your pace.
However, in an age where portable music devices are a dime a dozen, which ones are suitable for canceling the noise on a busy subway, and which ones are suitable for a good, vigorous run? Let's figure out the best way to listen to music while running (in 2021, for time travelers).
My Favorite Way To Listen To Music While Running
When running, it's essential you have an App that allows you to download songs offline, otherwise, you're going to be spending a fortune on buying additional data for your phone.
Which is no bueno!
Luckily, I found a solution a long time ago!
Rather than using Youtube for your running playlist, I recommend signing up for Amazon Music Unlimited.
Once onboard, you can download the app that gives you access to a library of over 50 million songs. You'll also be able to see your recently played!
Because we all know how annoying it can be when you find a great song but can't remember the name, right!?
What's more, Amazon Music comes with countless built-in playlists.
And they're pretty damn good!
After downloading a list of songs that get your running juices flowing, you can sort them by artist, album, song, or genre; making each song easier to locate.
The reason I prefer Apply Music to Spotify is because their isn't a limit to how many songs you can download offline, which is a major downside of Spotify in my opinion; especially for runners.
But it gets even better…
Here's what made me bite the bullet and sign up for Amazon Music.
It has a built-in voice recognition feature, giving you hands-free access, which is exactly what you need when hitting the trails.
Click here to get your first 3 months completely FREE.
Our Best Devices For Listening To Music While Running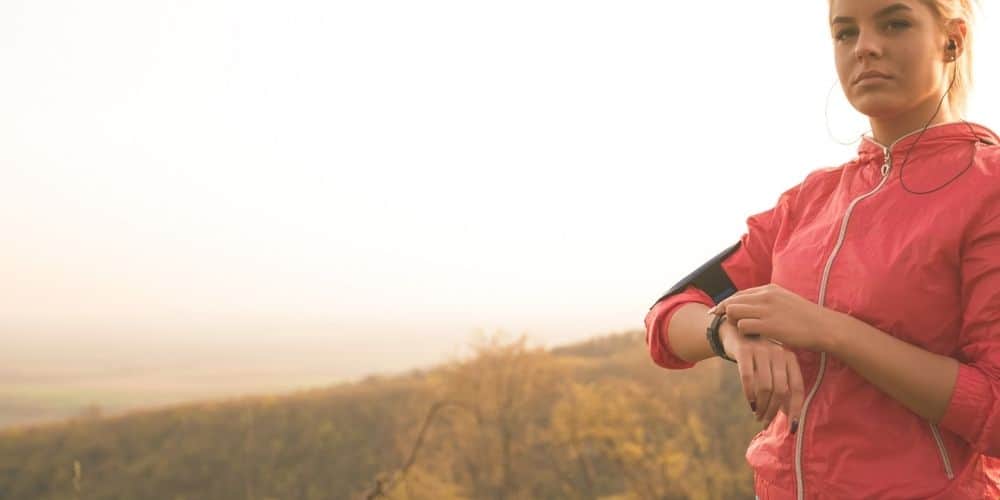 Best Gadget Combo – Apple Watch And Airpods
Most Comfortable – Falwedi IPX8 Wireless Earbuds
Best Non-Cordless – Letscom Bluetooth Sport Headphones
Best Cordless – Spidoc 5.0 Wireless Earbuds
Best MP3 Player – Sony Sports Wearable MP3 Player
How to Listen to Music While Running with an Apple Watch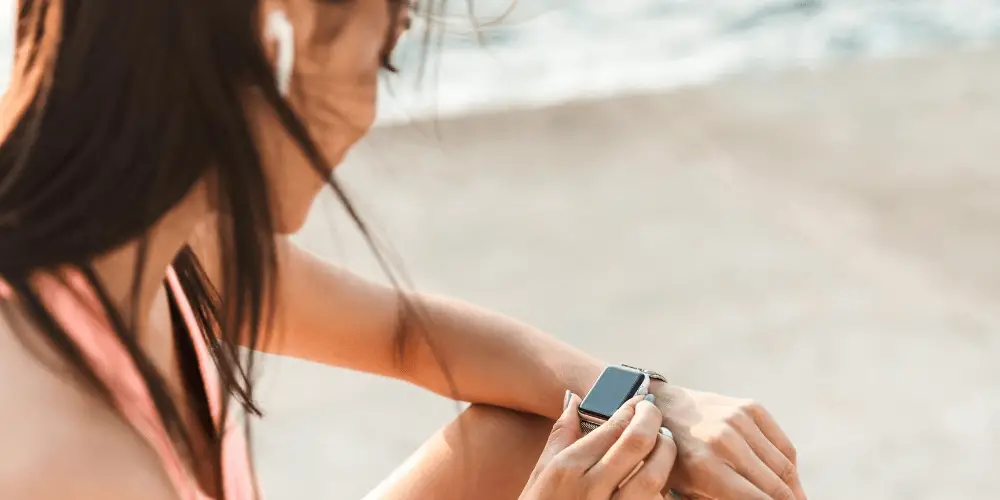 I'll give you 3 chances to guess what is the most practical solution to today's problem. If you said a Granny Smith hot-glue to your wrist, you are rather close. A newer generation Apple Watch (Affiliate Link) can cover a few of your needs while you're on a run, but let's talk music first.
Once you sync your watch to any other Apple device, you'll gain full access to your iTunes library. There's also the Apple Podcasts and Apple Books if that is more your vibe.
This is a great solution if you already sold your soul to Apple and you don't want to shuffle and keep track of your media across platforms and devices. If you are into the matchy-matchy style, you can finish the look with a pair of AirPods (Affiliate Link). But why did I say it's the most practical solution?
Well, it's because it's a way to carry your phone with you as well. You will have to pick a correct version, of course, and you will be able to receive and send text messages and make calls on your watch.
Honestly, smartphones can get bulky, and all it takes is for it to fall to the ground once for the screen to become completely useless. A smartwatch is smaller and lighter, and it secures to your body without any additional equipment.
Note, that the latest generations come with a "sport" wrist band, designed to both be better secured and flexible when you're on the move. However, if you don't already have a lot of Apple gear and if you don't have an iTunes account, it might be a good idea to consider other options.
How to Run with Headphones and Phone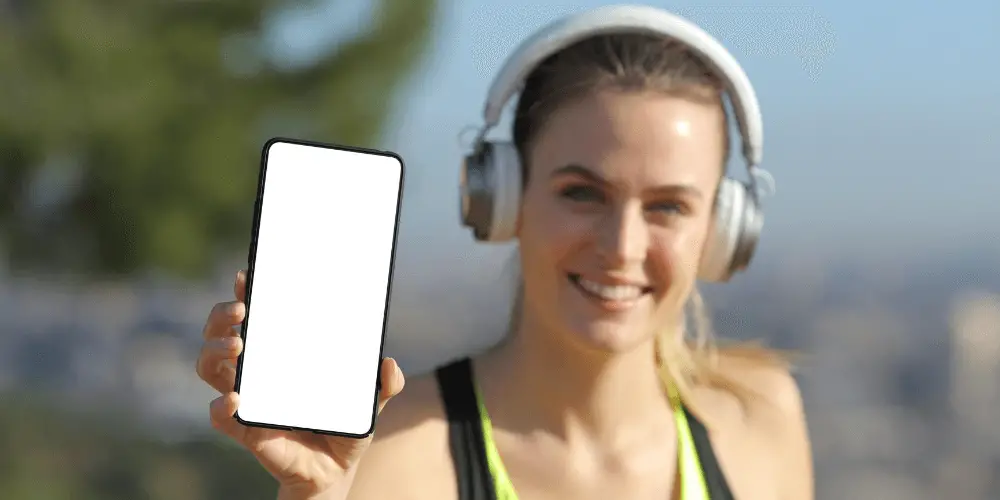 If your phone really wants to come with you on a run, you can fulfill its wish and use it to play your music. But, you'll have to pay attention to the choice of earphones, and how you're going to carry it. Let's talk about the latter first.
We are no way lacking options these days. Everything comes with a cellphone holder, and there's more than one bag or pouch that you can use during outdoor and fitness activities. The most basic version comes in the format of an armband.
Years ago, when you heard "cell phone armband", you would not be wrong at all if you expected a simple strap with velcro and not much else. There are still super simple options available today, but most of them have evolved a bit.
Like the TRIBE Water Resistant Armband Case (Affiliate Link) which is made out of materials that are far more durable and includes full protection for your phone's screen. For something a little more advanced, we have something like the Newppon 180 Rotatable Running Armband (Affiliate Link).
It latches on a little bit better, and they are a lot more versatile. For example, the Newppon can accommodate an iPad mini, because 'obviously' that's the device every runner wants to take with them!
But if you need to pack a bit more, you can look into a running backpack like the Gear Beast Running Backpack (Affiliate Link) It has a carrying capacity of a small purse, and it will fit your phone, keys, ID, and some money.
Plus, the straps on this one will help keep your shoulders straight and maintain proper posture while running.
So lets now discuss the earphones?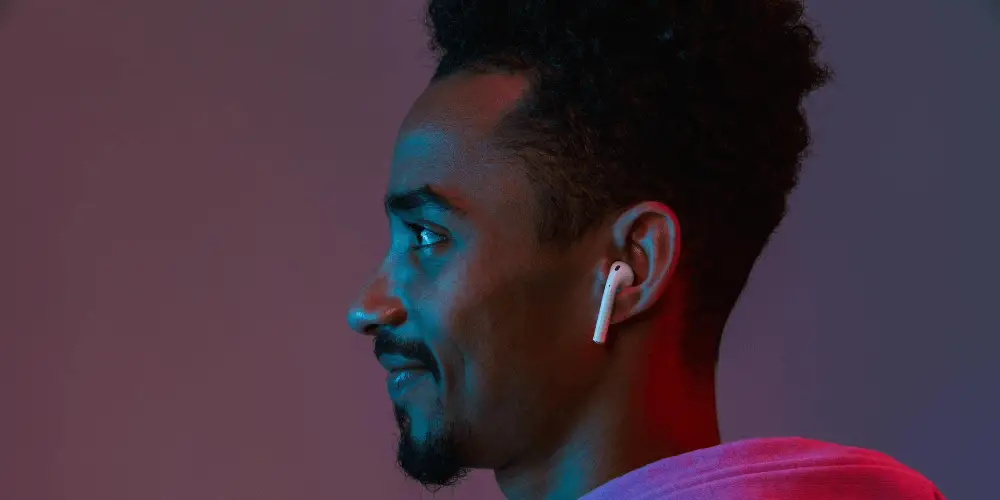 To sum it up, you can use any that catch your fancy. Every product I've mentioned above comes with a little tab or a slit for the cord to pass through and prevent it from flapping about.
Or, you can go wireless. We are not only talking about AirPods, though they are a perfectly decent solution. However, if they are quite a bit outside of your budget, you'll love me because I have several very affordable alternatives for you.
If you're really looking for that miniature, minimal bud-in-ear experience, you can achieve it with models like the Falwedi IPX8 Wireless Earbuds (Affiliate Link). These guys are even smaller than the AirPods, and therefore sit better in your ear and are far less likely to drop out when you're bouncing about.
And they can still perform the same task. Even though they are tiny, the battery life is impressive, so there's another plus. I'm personally more into models with a cord, like the Letscom Bluetooth Sport Headphones (Affiliate Link).
They are way more practical, and they remind me of my favorite MP3 player of all time (a bit more on that topic later). The cord makes it impossible to lose a bud and you can use it to hand the device on your neck, instead of taking the charging case with you.
The chunkier design also comes with a few extra perks in terms of sound quality and battery longevity. But, if for some reason, you are not too keen on that cord (understandable since it doesn't quite mix with some hats, buns, and ponytail styles) you can find an alternative, like the Spidoc 5.0 Wireless Earbuds (Affiliate Link).
What Is the Best Device for Listening to Music While Running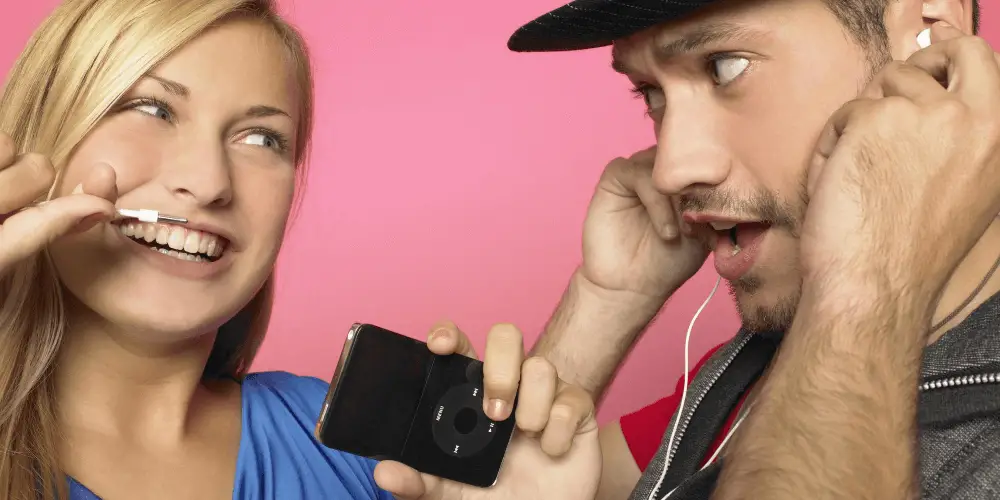 In the era of smartphones, classic MP3 players seem to be obsolete. I disagree. Considering how notorious some phones are about bad battery life, I kinda like being able to have enough of it for important calls.
Also, would you rather lose or break a device that is a lot cheaper, or an expensive, top of the line smartphone? Yeah, I thought so.
For a runner (especially one that prefers uneven terrain and wilder routes), it would make a lot more sense to get a different device for listening to music while running – either something that is designed for these types of activities or something that is cheap or even disposable (Affiliate Link), just in case.
Here are some interesting models for you to choose from, but can you guess which one is my favorite? Hmmm?
1. Sony Sports Wearable MP3 Player
Sale
Sony Sports Wearable MP3 Player
4GB Sports Wearable MP3 Player, Waterproof: For use in salt & fresh water up to 2-meters deep, Sweat resistant, dust proof design endures through the toughest training conditions
Ergonomically designed for a secure fit and long-lasting comfort, Ambient noise function so you aren't isolated from the world around you, Up to 12-hours playback. Sound Effects-Dynamic Normalizer
Drag & drop from iTunes for Mac or Windows, Playback MP3, WMA, AAC, and Linear PCM Audio Files, Supplied: USB dock, regular & swim earbuds (1set each), adjustment loop, Hi-Speed USB 2.0
I bought this guy when the previous version was released in… the age of dinosaurs. Right now, it's charging for the next use. That's it. Review done.
I am eyeing this newer one, but I'm afraid that I'll break the heart of my current Walkman if I bring it home. I'm torn. Especially because a whole host of people got their grubby little hands on it since they saw how long I've had my original player.
They are making me salivate, and I'm doing some major coveting here. Anyway, you may assume that I think that they are amazing. Even the older version wraps around the ears seamlessly and doesn't feel heavy on the head. I never had an issue with bouncing, and never heard anyone else complain either.
This new version includes bud inserts and a strap for an even better fit. The controls are also intuitive and you will be able to master them very quickly. And, most importantly, the quality of sound is superb. They use your ear's anatomy to achieve some really good bass action.
2. Runattitude Sports Bluetooth Headphones
As a more budget-friendly option, this model copies Sony's concept but brings a few spins of its own. Now, I can't promise the same longevity as the previous option. And the Runatttude's offering doesn't feel as expensive in hands as our Walkman friend.
However, it's still a solid music player that can offer hours and hours of playtime with more than a decent quality of sound. But one thing that this guy does do better than Sony is being versatile.
It can be used both as an independent MP3 player and also as a set of Bluetooth earphones. And you will get a very respectable 8GB of memory to boot. Just one thing, the company markets this model as waterproof. It's not.
It's water-resistant, so that doesn't mean you can jump into the pool with it. But if that's what you're looking for then check out this next model…
3. H2O 100% Waterproof MP3 Music Player
With that brand name, I guess it's rather easy to guess what this guy should be able to do. I don't know how many bodies of water you encounter on your regular runs, nor do I know how many you jump in, but if the answer is only one, listen up.
The Stream is 100% compatible with iTunes for easy loading of the playlist. If you don't have it, you can still load your music onto an 8GB micro SD card. It can also connect to Pandora and Spotify via Bluetooth.
You can expect to hear up to 2000 songs on a single charge. Since this guy is designed for swimming, it is made to attach to the straps of swim goggles.
You may have to get a bit creative about attaching it to your non-goggled body, but they're worth it if you're looking for a device that will work both in water and on dry land.
4. Idoooz X1 Mp3 Player and USB Stick
This one is for everyone that went, "I'm not gonna buy a separate MP3 player just for running!" Well, you don't have to. The Idoooz X1 is an MP3 player and a USB stick in one.
There are similar players on the market, and they have been hanging around for at least the past 10 years. However, this guy is ideal for runners since it's small and it comes with a clip so you can hook it up to any part of your person.
You'll also find a strap in the box, and you can use that to hook it up as well. The device charges through the USB port on your computer and a single charge will give you up to 15 hours of playback. The player comes with a classic set of earphones, but unfortunately, it can't connect to wireless ones.
5. SEWOBYE Portable Touchscreen MP3 Player Watch
SEWOBYE Portable Touchscreen MP3 Player Watch
✅【MUSIC PEDOMETER】Portable MP3 Watch sport with watch band makes exercising even better, you have a way to play music while tracking progress throughout each activity. Bluetooth music player wireless - just pair with your wireless earbuds or bluetooth speaker to makes sport or learning more interesting.
✅【MULTIFUNCTIONAL&PORTABLE】Support bluetooth mp3 player 5.0 music watch delivers a ton of value in a tiny package - folder classification, pedometer, E-book, calendar, stopwatch, photo browse etc.
✅【LEAVE PHONE ALONE】Sports music player bluetooth supports up to 128GB micro SD card. It actually help free up space on your phone and prevent your battery from draining so quickly. Packed with power - About 20h music playback, 5h -6h Bluetooth playback, 23h voice recording - Phone goes off, but music stays on.
If you're not willing to spend so much money on the Apple Watch, check this one out. This guy is a multimedia center with a built-in pedometer. It offers a whopping 128GB of storage space, courtesy of a micro SD card (plus another 16GB internal memory). And you get up to 20 hours of playback time on a single charge.
It can also connect to a pair of wireless earphones via Bluetooth, but you will have to use a pair of regular ones if you want to listen to the radio.
For extra versatility, you can wear the device 3 different ways – on your wrist via the wrist strap (pictured), around your neck via the included strap (which you will have to do if you're using classic earphones), and on your clothes or armband via the clip that is located on the back of the MP3 player.
Conclusion
There's more than one way to skin the music and more than one way to listen to a cat when you're running. However, be aware that I WILL come and nag if I feel you could have made a better choice for your preferred music genre.