I assume you are not Queen Elizabeth II and you don't have a lady in waiting whose sole job is to break in your running shoes. Bummer, I know. I'll also assume that you are not the biggest fan of blisters.
So, yeah, you will have to take on this job yourself. It is a bit annoying that you can't just put on your new kicks and go, but needs must. So let's see how to break in running shoes the easiest way.
Step 1 – The Perfect Fit
I know those neon pink leopard print sneakers are the best thing ever, but if they are not right for your feet, they are not right for your feet. You'll have to make do with something a bit plainer.
A good shoe should fit you like a glove (because they are gloves for your feet). They can't pinch you anywhere while at the same time they need to hug your foot like it's their most favorite thing in the entire world. Is there such a shoe out there? Who knows – you will have to kiss a few frogs.
Okay, wrong fairytale, but the point remains the same. Both size and fit can vary immensely between brands and models, and there's no way of telling which one of them is perfect for you until you try them out.
And I'm sorry to say, but you might need to experience a bit of pain until you learn to shop for perfect shoes. Yes, true love has to hurt, but you'll also get to learn what doesn't work for you and what to avoid during your next shopping expedition.
Step 2 – Take A Walk
Whenever you need to figure out how to break in running shoes, everyone will tell you that you need to walk before you can run. Why? Because it's true.
All shoes when they are brand-spankin' new are a bit stiff. Or more than a bit, depending on the make and model. Even if it's a model that you are used to, the first time they get out of the box they will be so rigid you could use them against a burglar or an annoying sibling. The only way to loosen the things up and get the party started is to get the party started.
Start by wearing them around the house. Those couple of minutes trying them on in the store did not tell you everything about the fit. Neither did that image online.
Just test them and see if they pinch during long wear times. If they do, since you never wore them outside, they will be easier to return or exchange.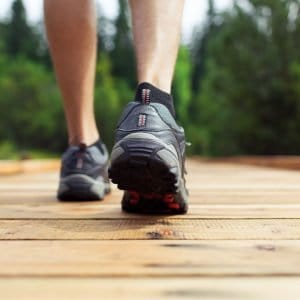 If everything is okay at home, take them outside to see the world. Use the opportunity that they still look nice and wear them to run errands – go to the store, to a friend's place, let them meet the fam, walk your dog, walk your cat…
The only true way to break in all shoes is to wear them as much as possible, and casual wear is the easiest way to get them ready for your morning run.
Step 3 – Take It Easy
Your shoes are people too. Okay, not really, but you should treat them as such. No one spent their life in a cardboard box on a shelf, woke up one day, and managed to run a marathon without prep.
When you start running, start small. Maybe just around your block? I would definitely recommend not going on very long runs and far away from a place where you can change into a different pair until your shoes don't feel new anymore.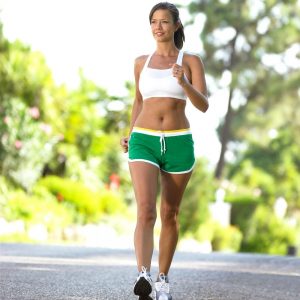 Step 4 – Switch it Up
Don't throw away your old shoes just yet. It's generally a good idea to switch between different models and types of shoes, but there is a good reason not to wear your new shoes all the time.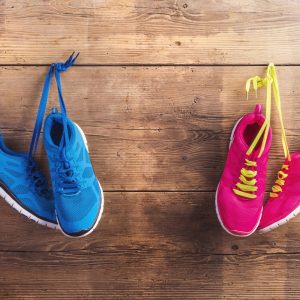 Even if everything seems to be fine, regular and constant wear of new shoes can still lead to blisters. That heel notch will take a while to completely soften. Until then, if it scrapes against your skin one time too many? It won't be pretty nor fun.
Quick bonus!
Some of the most difficult shoes to break in are the ones that have leather elements. Even if every other part of the shoe cooperates with you, leather takes long to soften and will do a number on your skin. Trust me – I have a pair of 10+ year-old Dr. Martin's Mary Janes and I know what still happens when I forget proper socks.
So, if you don't want to risk falling in love with a pair that has suede or leather, go vegan from the start. Check out the shoes below!
This is a really smart shoe that aims to provide all support you need while they have been reported to be Heaven for feet with bunions, flat feet. etc.
Brooks Women's Adrenaline GTS 18
With stellar cushioning and a more streamlined look, the Brooks Adrenaline GTS 18 running shoe will have you ready to perform at your best!
Predecessor: Adrenaline GTS 17.
Support Type: Overpronation/Stability.
Probably the shoe with the best energy return in this genre. One of the most beloved training shoes in the running community.
Newton Running Men's Kismet 5
The Newton Running® Kismet 5 running offers advanced support, reliable responsiveness, and comfortable breathability that makes it ideal for runners of all levels.
These are a must-try for anyone with issues with ankles and knees. Some runners have reported that they have abused them quite a bit, yet they are still in great condition.
Mizuno Men's Creation Waveknit 2 Running Shoe
WAVEKNIT upper construction provides a comfortable fit with a natural movement
SmoothRide: Creates a smooth transition from heel to toe on every step.
U4icX Midsole: A lighter, more cushioned iteration of U4ic, delivering a softer underfoot feeling for a smooth transition. Found in the Wave Enigma, Wave Inspire, Wave Rider, and Wave Prophecy.