Affiliate Disclaimer
We hope you love the products I recommend! Just so you know, I may collect a share of sales or other compensation from the links on this page. Thank you if you use my links, I really appreciate it! I am also a participant in the Amazon Associates program and will also make a commission from qualifying purchases.
This is a review of the best running shoes for calf pain.
My name is Chantelle and I'm a passionate runner who started out for health reasons but fell in love with the sport. Over the past five years, I've discovered what works and what doesn't.
The last few days I've been searching around for running shoes that help alleviate calf pain. I've looked on Reddit, Quora, and combed through the most popular running forums.
All the information I've found has been compiled into this article, meaning you won't have to spend hours comparing shoes as I did!
My research showed that the Hoka Bondi 7 Running Shoes are great for women with calf pain.
On the flip side, If you're a man, then the Hoka One One Challenger Running Shoes are your best bet.
In this article, I'm going to present my research and take a more in-depth look at the best running shoes for calf pain.
My Top 5 Picks
Hoka Women's Bondi 7 Running Shoe (Best For Calf Pain)
Hoka Men's Challenger ATR 5 (Minimizes Impact Force)
Brooks Ghost 13 Running Shoes (12mm Drop)
Saucony Women's Ride 13 (Soft And Comfortable Upper)
Saucony Men's Triumph 18 (Last A Long Time For Forefoot Strikers)
---
The Women's Bondi 7 Running Shoes are designed to be super-comfortable. The cushioned midsole is made from full-length EVA foam, which is exactly what you need when dealing with calf pain.
Due to the superior cushioning, these shoes are perfect if you're planning on running for long distances; or even a marathon.
While lots of cushioning sounds great, I discovered one downside.
It's going to be harder for the heat to escape when running, which can cause your feet to overheat.
This shouldn't be too much of an issue unless you get bad feet odor after exercise. Even then, it's nothing a quick shower won't solve!
The bottom of these shoes provides great traction. It doesn't matter if you're running on concrete or grass, you won't need to worry about slipping over.
What's more, if you work on your feet all day, these shoes are a lifesaver. Numerous nurses have mentioned how they've helped them stay comfortable on long shifts.
Best Feature: Great Cushioning For Calf Pain
---
The Men's Challenger ATR 5 running shoes have EVA foam cushioning, preventing your calves from becoming sore when running. The EVA foam also does a great job at minimizing the impact force.
If you combine running with the gym, these shoes are great when you're legs feel a little sore and need extra support.
However, all this extra cushioning and support does come with a minor downside. I wouldn't recommend these shoes for somebody with wide feet, as the upper is quite narrow.
I'd also advise against using them on grass, as they don't provide the best traction in the world.
The last thing you want is to injure yourself!
What's more, they don't feel too heavy but aren't super-lightweight either. So you're not going to be using too much energy with each strike, making them great for longer runs.
You can use the Challenger ATR 5's for road running; however, they are more suitable for the trails.
Best Feature: Minimizes Impact Force
---
Compared to the Brooks Ghost 12 Running Shoes, the 13's feel a lot more lightweight and less clunky. Don't get me wrong, they still provide great support for people with calf pain, but are more streamlined.
Due to the lighter feeling, you can expect a slight increase in your running speed when compared to previous models.
The DNA Loft has also been increased, making them feel a lot softer and more comfortable.
What's more, they have a 12mm drop from heel to toe, helping absorb the impact when running long distances. 
The heel drop is 32mm, preventing your calves from becoming overworked when your feet come into contact with the ground.
In summary, I recommend these shoes for running on concrete, hard soil, and treadmills. 
Best Feature: 12mm drop
---
The Saucony Women's Ride 13 Running Shoes aren't the most aesticially pleasing shoes on the market; however, they are great for people with calf pain.
They are designed with PWRRun, which combines TPU and EVA, creating a well-cushioned midsole that takes the pressure off your calves. 
The cushioning isn't too hard where your putting more pressure on your legs and isn't too soft, causing you to exert more force with each stride.
The upper is also very soft, helping prevent blisters from forming on those longer runs. The soft texture molds to your feet, providing a secure and comfortable fit.
You don't have to worry about your feet coming loose with these shoes!
So are there any downsides associated with the Saucony Ride 13's?
I couldn't find much at fault with these guys; however, they could be a little more breathable. 
In summary, I'd recommend them for people with calf pain for medium to long runs. The secure and comfortable fit will keep your feet feeling fresh, which is a major plus in my eyes.
Best Feature: Soft And Comfortable Upper
---
If you're a forefoot striker with calf pain, then these may be the perfect shoes for you. The front of the outsole doesn't tend to wear as much, meaning you'll get more miles.
They are a little heavy, so I wouldn't recommend using them as your everyday running shoes. The heavier design means they may begin to feel clunky on longer runs.
However, if you prefer shorter runs, then you can't go wrong with them!
Alternatively, if you're looking for a lighter shoe, you can go for the Men's Challenger ATR 5 running shoes. 
Best Feature: Last A Long Time For Forefoot Strikers
---
Choosing The Best Running Shoes For Calf Pain
When choosing the best running shoes for calf pain, there are some important things you need to look out for.
Let's take a look at them below…
The Cushioning
You'll find that most running shoes have a cushioning system in place; however, some are better than others. 
If you're experiencing calf pain, it's important to choose a pair of running shoes that offer superior cushioning.
That's right, don't settle for average, you need something spectacular!
A shoe with great cushioning works by absorbing the impact when your feet touch the ground. This prevents the shock from traveling through your calves and legs, minimizing the pain you're experiencing.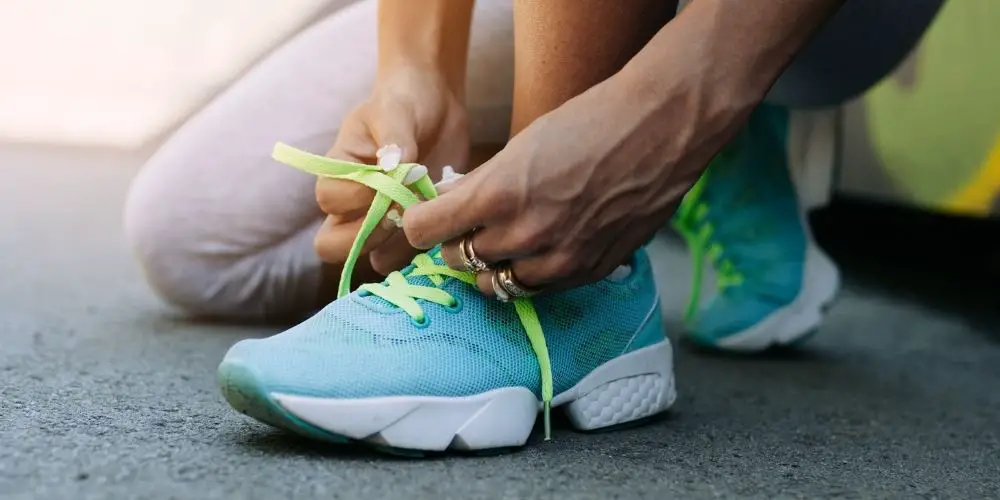 When choosing a cushioned running shoe for calf pain, you want to take note of which part of the midsole is thickest. This will determine whether you should purchase the shoes or not.
Generally speaking, you need shoes that are thickest at the point of impact; therefore, if you're a forefoot striker, then choose running shoes that are thickest at the front.
You'll find some shoes have the same levels of thickness throughout. These shoes are great regardless of how your feet land when running.
Durability
While going for a cheaper pair of running shoes saves you money, you need to think long-term. What's more, if you're suffering from calf pain, then getting a cheaper pair of shoes is the last thing you want to do.
As a general rule of thumb, you can expect high-quality running shoes to last between 450-550 miles. Some will last even longer, depending on the type of terrain you're running in.
You'll know your shoes are on the way out when the grip on the outsole starts to fade, leading to less traction when running.
Arch Support
Shoes with arch support are designed to support your feet' arches. The benefit of this is the impact pressure will be evenly distributed throughout your whole foot.
While it's been proven that arch support isn't going to make a major difference in preventing injures, it definitely helps with existing ones.
Breathability And Flexibility
Looking to increase your running time? Then you need to be running in shoes that offer adequate breathability.
The more breathable you're shoes are, the more oxygen your feet can absorb. Not only does this help with fatigue, but it can also increase your running speed.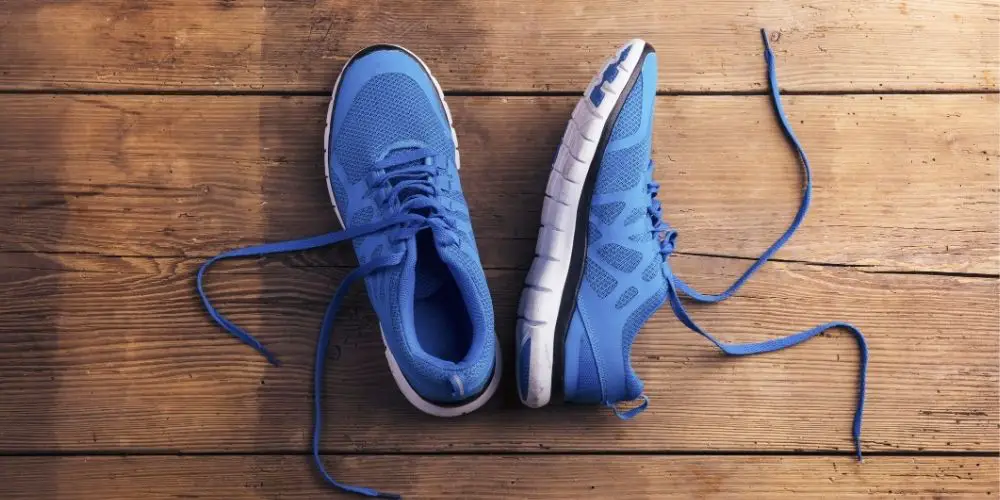 And who doesn't want to increase their running time!?
But how does flexibility come into the equation?
The more flexible your running shoes are, the more aware you'll be off your foot placement. Over time, this helps increase your running technique, which can reduce calf pain.
Lacing Technique
Did you know that there are different ways to lace your running shoes?
When people experience foot, toe, or ankle pain, it can sometimes be cured by changing the way you lace your shoes.
That's why it's always important to see if you can adjust the laces, otherwise, you may return a shoe and release the problem could be solved with a different lacing system.
Here is a video that goes over three common lacing techniques…
FAQ's
Should I Run With Calf Pain?
It depends on the severity of the pain. You know your body better than me, so it's important that you make that decision.
However, if you think your calf is strained, then I'd advise taking some time off to let it heal.
On the flip side, if your calf only starts aching during a run, then it could be your running shoes that are causing the problem.
What Are The Causes Of Calf Pain?
Apart from running shoes, there are some other potential causes of calf pain when running.
If your calf pain is relatively new, it could be something as simple as a strained muscle. I recommend taking a few days off and seeing how you feel afterward.
If the pain hasn't gone, then I'd consider changing your running shoes.
If you followed the steps above with no success, then it could be something a little more serious.
Other potential causes for calf pain when running include shin splits and trapped nerves. These injuries are a little more serious and require you to speak to a health professional.
Speak To A Medical Professional
Everything highlighted in this article is based on my personal opinion. I am not a health care professional.
If you're constantly in pain, I'd recommend talking to a doctor that can guide you in the right direction.
My Final Verdict
You don't have to deal with calf pain when running anymore. Choosing the correct running shoes could be the solution you've been looking for.
If you're a woman, the Hoka Bondi 7's are great. For men, I recommend the Challenger ATR 5's. Both of these shoes provide supreme cushioning and absorb the impact perfectly.
Related Post: Best Running Shoes For Compartment Syndrome